NEWS PRODUCTION & SELECTED STORIES
ABC News:
ABC News Investigative Unit + Nightline: The Multimillion Dollar Appeal (April 7, 2008):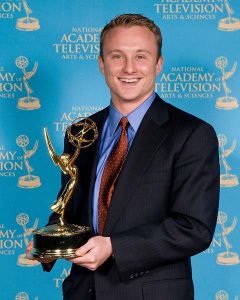 A two-part, multi-platform ABC News Nightline report on "big coal" and dirty money; on Massey Energy Corporation, its CEO coal-boss Don Blankenship, and his relationships with West Virginia's Supreme Court justices.  Larry Starcher, a whistleblower Supreme Court Justice, provides his perspective on the issues.  Hugh Caperton talks about his lawsuit against Massey Energy.  Co-producer Asa Eslocker gets attacked and strangled by Don Blankenship.  Later, ABC News Investigative Unit wins the 2008 National News Emmy Award for Investigative Business Reporting.
ABC News Investigative Unit: 2008 Democratic National Convention Coverage in Denver
I am proud of my time and experience working with Brian Ross and ABC's Investigative Unit. One highlight was my arrest in Denver in 2008 – a highly unusual day where, normally behind the camera, I made the news. While covering events surrounding the Democratic National Convention for our award-winning "Money Trail" series – investigating how money buys access and the role of lobbyists in our political system – I was arrested while standing on a public sidewalk. 
"We expect to see that kind of thing in Myanmar, not on the streets of Denver," said ABC News spokesman Jeffrey Schneider – one of my favorite quotes from ABC.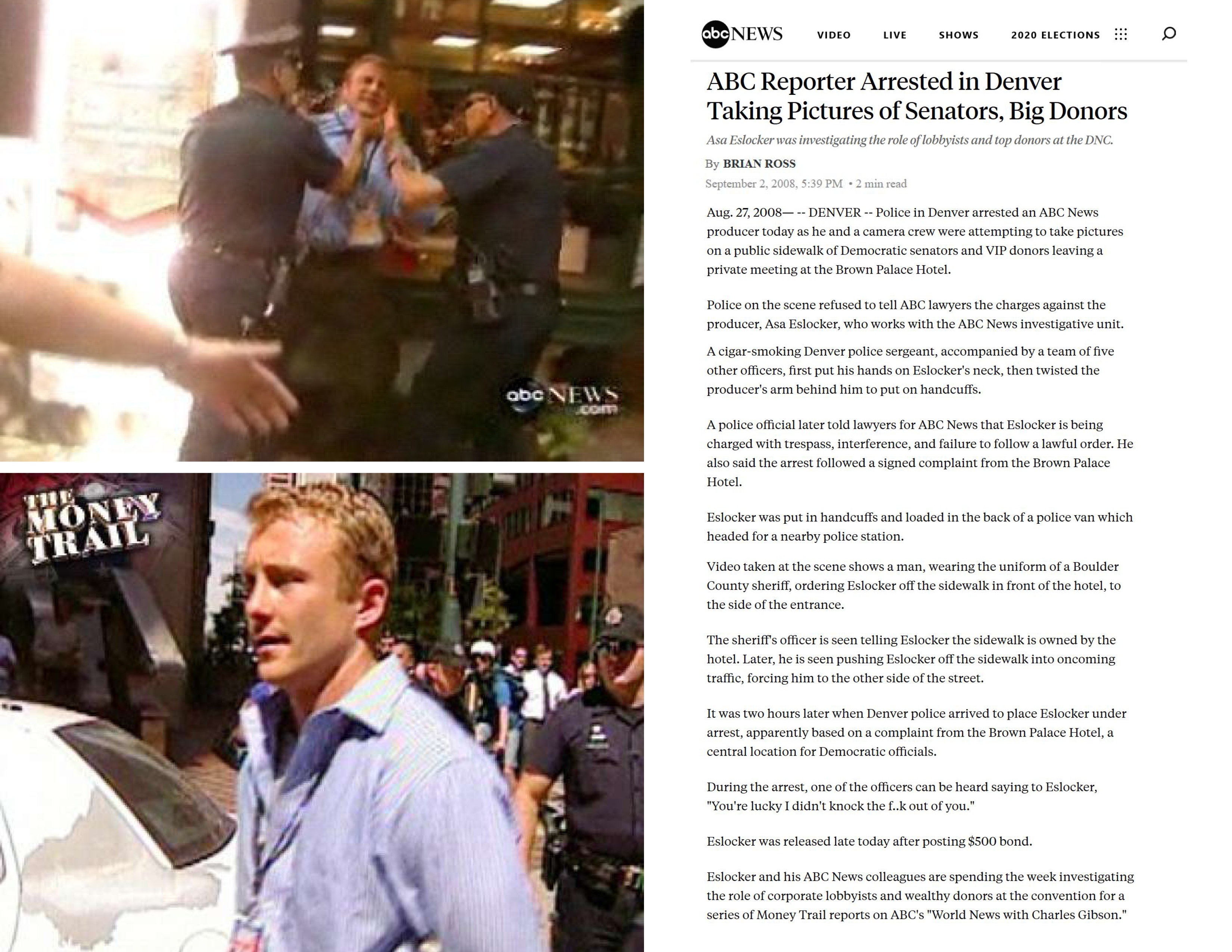 "You're lucky I didn't knock the f..k out of you," said the officer who pushed me into the street. 
After an overly forceful arrest, I spent the afternoon in a Denver detention cell and was released later that day to cover more events that evening. The charges were later dropped; I had only been doing my job acting in the public interest on a public sidewalk. It is not everyday that being arrested earns a hand-written note from the President of ABC and a toast from Charlie Gibson for simply doing my job.  More "below the fold."
At the time, a range of organizations and news outlets ran with this story.
REPORTERS WITHOUT BORDERS issued a statement in my support: "The use of unnecessary force and the arrest of a journalist who was reporting an important political story is deeply troubling and unacceptable," Reporters Without Borders said. "The attempts at intimidation evident in the video of Eslocker's arrest – simply because he refused to leave a shared, publicly-used space – reflect negatively on the commitment of the police to uphold a journalist's right to gather important news."
RADIO + TELEVISION BUSINESS REPORT also wrote, Like many other journalists, we've had our run-ins over the years with officers who failed to grasp that they too are required to abide by the law. This was clearly not a "lawful order" that the journalist had to obey. Absent that, the other charges also fall. It is the cops who should be facing charges.
And finally, only because it might be my favorite, is BILL O'REILLY'S "Pinheads or Patriot" segment. As always, Bill will "let you decide" about the arrest.  For some reason, I wear this one as a badge of honor because, well, as Bill concludes, "Pinhead or patriot? You make the call."